Who By: The programme is brought to you by Asa Akira and the good folks at '2 Girls Teach Sex'. Asa is a very beautiful adult film actress with a very varied and popular film career behind her. This was the last programme Asa made before she signed an exclusive deal with an adult film company. '2 Girls Teach Sex' is a sex education company who make a number of products to help guys become better lovers and have the sex with their partner(s) that they deserve. Both combine here to take your sex life to the Next Level! If you want to have a look at who teaches you, click this link: http://asateachessex.com/meetthestars.html  (right click and open it in another window please!)
What is it: 'Asa teaches Sex' is an online programme with a number of tutorial videos for the user to watch, take notes and then go away and practice on the lucky woman or women in his life. When you purchase the product, you are given a username and password to log onto the system via a website. The videos (and bonus videos) break down and 'teach you everything you need to know to give her the 6 types of orgasms that she NEEDS.'
Where can I get it: To get this must have video series, simply click this (affiliate) link: Get Taught By Asa Now!!!
What do you get with it: This program has 7 different portions, and 5 exclusive bonuses that you won't find anywhere else! Here's what you'll get if you get this programme:
Extreme Foreplay for Sexual Addiction – 'Joined by the incredibly gorgeous, and very sexual Romi Rain, the foreplay lessons you learn in here will change your sex life FOREVER. Not only will you be giving her the kind of foreplay that leads to juicier orgasms, you'll have her CONSTANTLY begging you for more!'
The OMG! Oral Orgasm – 'Joined by Monique Alexander, a fellow porn legend. In OMG Oral I will teach you techniques that I have learned throughout my years in the industry. Be careful though, once you use the "Infinity loop," sex may never be the same for her!'
Extreme Sex God Positions – 'If using the same position over and over is getting boring for you, THEN THIS SECTION IS FOR YOU. Joined by the INCREDIBLY SEXY Capri Cavanni, we'll be showing you how to spice up every base position. With all the variations we're going to show you, say goodbye to BORING SEX.'
Multiple Squirting Orgasms – 'Join Marcus London, as he unveils his new Multiple Squirting Orgasms. As someone that's received a squirting orgasm from Marcus, I can tell you he's a PRO. Watch him show Ana Morna the ropes as she CAN'T STOP SQUIRTING!'
Addictive Orgasms – 'Joined by Dana DeArmond, we'll show you how you can turn the average orgasm into her favorite new ADDICTION. Use this carefully, you might be surprised by how sexual she is afterwards. This is powerful stuff!'
Bring Out Her Inner Porn Star – 'Maddy O'Reilly is one of the sexiest girls in the business, and I had to bring her in for this. Already being called THE HOTTEST DEMO EVER, watch as we get rough, raw, and incredibly DIRTY. This is a very hot section of the program.'
The 15 Minute Orgasm – 'You guys asked for, and we're gonna give it to you! Watch as Marcus walks you through the steps, and puts it into motion. Kendall Karson comes FOR 15 SOLID MINUTES! She said it was "The Craziest Experience to EVER happen to her!"
PLUS … you get a lot of bonus videos as well, some have to be seen to believed!! Trust Me!!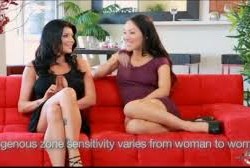 HOW DID I FIND IT?
Pro's
You can watch in the privacy of your own home. You can rewatch videos over and over, to check parts you are not sure on, get a refresher or simply enjoy the content! It's great that you can click to the part of the videos you want to watch and see the area you want to work on again and again as you don't get that chance in real life sex. The videos allow you to learn all the skills you need before you get to use them in real life 'battle'!
Videos are very detailed. They start from the very basics on foreplay and advance to the next level stuff that will have your partner begging for more! When the videos cover the areas where you want to see close up, you get very close up views! Be warned if you are a bit shy! The models talk as they act and it is very helpful to see the key points, understand what you are learning by watching the videos seeing the results of the actions they mention. You get to see every lick, tongue flick, finger use etc – there is nothing left to the imagination.
The models are hot and cover all the typical preferences of blondes, brunettes, body types, tall, slim etc. Whatever type you like in a woman, this video series caters towards it. The girls look awesome … just throwing that in too! (Some do need to calm down on the makeup though). The models are also not the usual unrealistic female or male types, you don't get the freak show models, you see realistic models who you could easily meet in any club or pub etc.
The site layout is very easy to manoeuvre and find the content you want. The video selection sidebar is on the right of the screen on all videos, so you just need to click to move on, rather than have to click around the site to find the video selector again.
Handy hints scroll along the bottom of the screen. It can be difficult to notice them as the videos roll (!) but they do hit home the more important points to remember as you watch.
It's good to hear what girls actually want, in a straight forward and direct manner. The models don't bull shit when they talk. They say exactly what they want from a guy, no bull women's mag style stuff! You hear what you need to know to hit that next level in bed! Each of the different kinds of orgasms has a couple of videos on the girls discussing what is best to do and what not to do, followed by very detailed and frankly awesome demo videos! You will need to tailor the style and tips you learn in the videos to the kind of girl you are with to ensure you give her the best time ever and make her happy, secure and hit that next level!
The demo scenes look like they are filmed in a proper bedroom, not a brothel or creepy location. It's a strange thing but seeing the demos in a place that you could actually imagine yourself in, it reassures you that you could actually learn this sort of thing. The layouts change on each of the videos which can be a nice change if you can actually notice that sort of thing when watching these videos!
I'd happily have paid extra for some of the bonus videos! They are that good!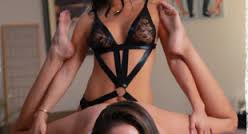 Con's
There is no denying or hiding what you are doing/looking at. Anyone looking over your shoulder or overhears the audio won't be mistaken on what you are watching. Ensure you watch this in private or preferably with a partner who wants to help you learn! Please remember that these videos are graphic and nothing is left to the imagination, watch who you show it to.
You have to suck up your pride and admit you need help. In my opinion, this product is great as it shows you where you are going wrong, what you should do or should stop doing but it can be tough to learn. You need to watch the videos with an open mind, note where you are not being the masterful lover that you consider yourself and learn the new approaches that will make you a better lover. If you let your ego stop you from learning, you won't get to the next level that you could manage!
You could get 'distracted' by the content! I won't lie, the videos are very full on, graphic and have the expected moans, noises and sights you normally get during sex. It can be hard to remind yourself that this isn't porn but a tutorial to get you better!
You could feel put out by the material. If you are quite new to the whole sexual experience, some of the brazness of the videos can be scary. However, you will soon acclimatise to it and learn to love it!
Some of the 'chat' between the coaches and models is rather painful to listen to! Thankfully the majority of the models voices are OK and not the usual irritating 'porn style' pretend vocals that you'd expect from watching porn.

If you have a poor internet connection, the videos may need buffering or be unplayable at times of poor connectivity. Unfortunately that is a major disadvantage by not getting a physical product like a DVD but access to the videos on a website.

I hate products that have a lot of words in caps lock in the descriptions of the videos. It's more a personal hatred of mine but for some, it looks cheesy and is irritating. I would also look at how some of the descriptions are written as they come across as rather canned and I rolled my eyes at a few points. Generally though, I barely looked at them as the videos rock too much!
As a currently single guy, it can be annoying to learn so many great new tricks and tips and not have anyone to use them on! However, it just motivates you to go out and find a lucky lady and get it oooonnnnnnnn!! (Yes, I did just write that and no I am not ashamed … ok maybe I am a little!)
OK, tell me straight – Is it Worth the money in a few words?
Yes, this is a product that I would have bought if they hadn't sent me a review copy setup. The videos are great, the models hot and no matter who watched the videos or how many partners they had had, everyone I spoke to said they had learnt a new trick or loads to be honest! The videos cover all aspects of sex and go through all the different things that you maybe wanted to know about but had no way to find out about or feel brave enough to ask a mate about. This video series covers any and all questions you may have and leaves you wanting  to go out and put what you've learnt straight into practice! Highly recommended product!
OK, I want it, where do I get it?
To get a copy, you need to click this link (please note that the following is an affiliate link of mine):